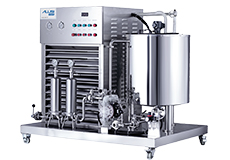 APM-Perfume making machine

The product is a latest product developed by our company specially used for clarification and filtration of liquid such as cosmetics and perfume etc. after freezing. It is an ideal device for filtering cosmetics and perfume in cosmetic factories. The product is made of high quality 304 stainless steel or 316L stainless steel. The pneumatic diaphragm imported from USA is adopted for pressure source to carry out positive pressure filtration.

The connecting pipes are sanitary polishing pipes, which completely adopt rapid installation type connection form, with convenient assembly, disassembly and cleaning.

Equipped with polypropylene microporous filtration film, it can be widely used in cosmetics industry, scientific research department, hospital and laboratory etc. for clarification, bacteria removal and filtration of small amount of liquid, or micro chemical analysis, which is convenient and reliable.